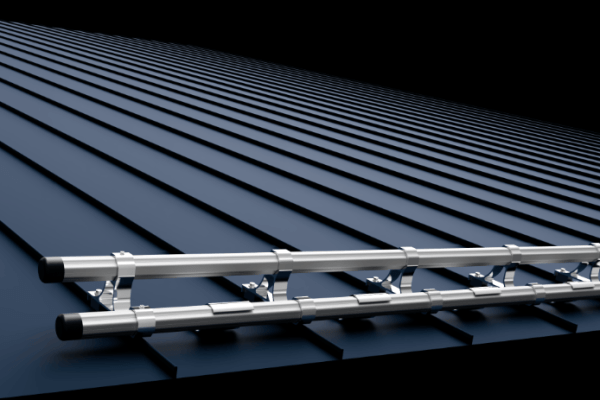 X-Gard™ 2.0 – Snow Guards for Standing Seam Metal Roof
The Most Robust Two-Pipe System on the Market. If Bigger Is Better, Then This Is the Best System in Our Snow Guard Arsenal.
Details
Roofs that collect large amounts of snow require Herculean performance. X-Gard 2.0 provides that heavy-duty, engineered assurance your project may need.
This two-pipe, snow guard system is easily retrofitted to existing roofs or can be incorporated in new construction design.
X-Gard offers you a non-penetrating standing seam, snow guard system designed for heavy-duty, multi-pipe applications. It is also an ideal solution for use on solar PV roofs when extra height is required.
X-Gard's proprietary 8-sided NEX® 2" pipe provides superior beam strength compared to other crossmembers. Its unique pipe shape is formed from high-tensile aluminum.
Benefits:
The strongest snow retention system on the market
Perfect for insulated metal panel (IMP) roofs with seam spacing of 36" – 48"
Roof warranties left intact with this zero-penetration system for standing seam roofs
Low-cost, job-specific P.E. wet stamp available
Features
NEX® pipe crossmember spans up to 4'
NEX pipe has the ability to cantilever up to 20″ past the last clamp in an assembly
Proprietary octagonal crossmember prevents rotation and is much stronger than a conventional round pipe
Finished system height above panel is 7" – 9" depending on seam dimension
Double-clamp design for each bracket
Compatible with standard S-5! clamps
Can be painted, powder-coated or anodized
8' nominal pipe length for easy shipping and handling
Comes with an easy-to-use, engineered splice kit
X-Clip retards snow migration beneath the system, extending all the way to the roof surface using a EPDM rubber foot for protection