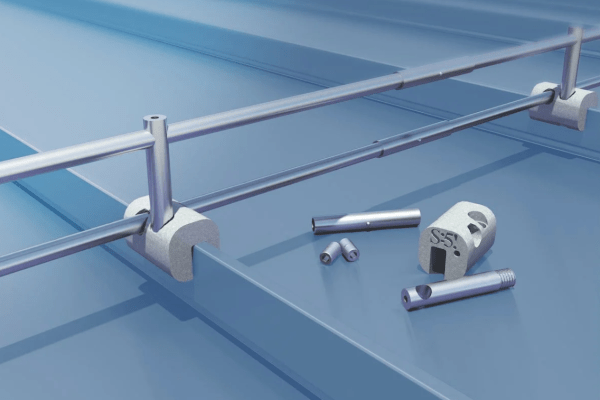 SnoRail™ – Snow Rails for Metal Roof
Architectural, Snow Rails for Metal Roof Systems That Reduce the Risk of Snow Sliding off Standing Seam and Copper Metal Roofs.
Details
You don't have to compromise form or function when it comes to choosing snow rails for your metal roof. Its non-intrusive, cylindrical shapes and smooth lines make it an architectural favorite. Our roof snow guard system in aluminum is suited to zinc, aluminum and coated steel roofs. The brass version is available for use on copper and lead-coated, copper roofs.
SnoRail's ⅜" (10 mm) single-rod assembly provides a slender high-tech, architectural look, while still offering durable performance in light and medium-duty applications.
S-5! SnoRail Benefits:
Easy installation
Quality construction without the inconsistencies of soldered snow guards
Sleek, low-profile architectural aesthetics
Available in brass for copper batten or standing seam roofs
Features
Low-cost, one-rail snow retention system
Clamps are available in aluminum or brass
SnoRod™ in stainless is the best choice for steel, aluminum and zinc roofs
SnoRod™ in brass is best for traditional copper roofing
Maximum clamp spacing is 24" (closer for heavier snow loads)
S-5-ASF ("A" is for Architectural Aluminum) is suitable for use on vertical standing seams with ≤.40" seam width or horizontal (single-fold) dimension of ≥ .685"
S-5-BSF ("B" is for brass) is suitable for use:
On traditional double-folded copper standing seams with ≤.24″ compressed seam width
On traditional (batten seam) dimension of ≥.50"
Horizontally on single-fold copper roofing with seam dimensions ≥.65"