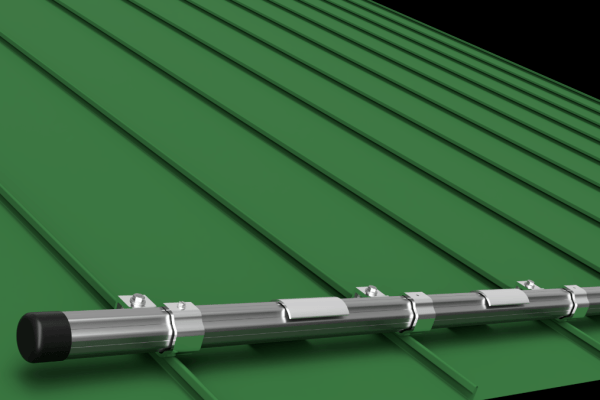 X-Gard™ 1.0 – Clamp on Snow guards for Metal Roofs
Unprecedented Holding Strength for Reducing the Risk of Rooftop Avalanches. X-Gard Is the Strongest One-Pipe, Clamp on Snow Guard for Metal Roofs on the Market.
Details
X-Gard 1.0 is a clamp on snow guard for metal roofs designed for maximum load/span conditions, making it a great solution for both light and heavy-duty snow-load applications. (On light-duty applications, fewer anchorage points are required).
X-Gard 1.0 utilizes the ultra-strong NEX® crossmember making it  the most heavy-duty, one-pipe system currently available in the marketplace.
Benefits:
Perfect for insulated metal panel (IMP) roofs with seam spacing of 36" – 48"
NEX® pipe has the ability to cantilever up to 20″ past the last clamp in an assembly.
Low-cost, job-specific P.E. wet stamp available
Engineer a system for any site-specific roof with the online S-5! Snow Guard Calculator
Features
NEX® pipe crossmember spans up to 4' between attachment points
Proprietary octagonal crossmember prevents rotation and is much stronger than conventional round pipe
Compatible with standard S-5! clamps
Ideal for standing seam roofs
2 sizes of X-Clips to fit all seam heights, extending all the way to the roof panel surface
Can be painted, powder-coated or anodized by your distributor
8' pipe length for easy shipping and handling
Comes with easy-to-use, engineered splice kit